Please scroll down for the German version.
When a technique develops in parallel around the world, you can bet that it will be implemented differently. This is evident not only in the variety of patterns and approaches that develop, but also in the different materials that are used and the way in which they are used. Sometimes there are more differences than similarities.
Lace makers worldwide agreed – at least until a few years ago – that you need bobbins and a pillow to make lace. (Meanwhile, lace is also made on a wall or on tables without any bobbins. But that's not the topic this time). What they did not agree on is the shape and manufacture of the bobbins and pillows. These differ significantly and that has an impact on how bobbin lace is made.
The variety of lace pillows reduced to two
If you are interested in the variety of bobbin lace pillows, it is best to enter the word into your favorite search engine and look at the result. I reduce the variety here to two different classes of bobbin lace pillows that are relevant to solving our riddle: the roll and the flat pillow.
The rolled pillow is ideal for working longer lace pieces such as scarves, curtains or other yard ware, as the needles do not have to be repositioned. If you work with very fine yarn, the flat pillow is more suitable.
With the roll, the bobbins hang down on the side, with the flat pillow they lie on the cushion. This has certain consequences for the bobbins and the lace-making. Anyone who, like me, thought they had to try working with bobbins for a flat pillow on a roll knows exactly what I'm talking about. The bobbins for a roll are much heavier so that the dead weight exerts some pull on the yarn. If the bobbins are too light, they'll just fly around and you'll be sorting more than making lace.
You can also try working with bobbins for a roll on the flat pillow. However, this is just as good an idea as the other way around. Flat pillow bobbins are not only lighter, but also slimmer and often have an angular shape so they stay where they are supposed to. Bobbins for a roll are usually round and enjoy having wild parties on the flat pillow.
Thus, the type of bobbin lace pillows also determines the type of bobbins. But not only that. It also affects the way in which bobbin lace stitches are executed, and that brings us very close to the solution to our riddle.
Open and Closed
Bobbin lace fascinates me because with two pairs of bobbins and only two movements – twist (t) and cross (c) – you can create an infinite variety. However, this variety is created differently depending on whether you use a roll or a flat pillow, and the culprit is the twist.
Let's take a closer look at the lace-making on a roll. The bobbins hang on one side and are usually pushed to the side in pairs during lace making. The weight of the bobbins keeps the yarn under tension. However, not so much that a pair could not secretly turn around itself once in a while, for example, when it is repinned.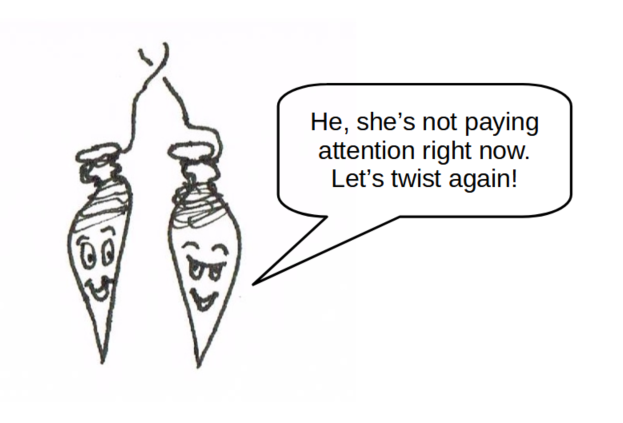 Suppose we have performed a stitch that ends with a twist. At the next opportunity, our rebellious pair of bobbins performs another twist, which we don't notice, and – bang – we have two twists. Since we don't count every time whether it is really only one twist, a mistake creeps in quickly. Since we lace makers are clever, we have agreed that a stitch on the roll always ends with a cross. This is called the open method, because the threads of a pair are always parallel – open – in front of us. Then, of course, a twisted pair always stands out immediately as a mistake.
On the flat pillow, the bobbins usually stay where you put them. (Unless you absolutely want to make lace with lively round bobbins). Therefore, bobbin lace making has evolved differently here and, if a pair lies twisted after a stitch, it lies twisted. This is then called the closed method, because the threads of a pair are so to speak "twisted" together. Let's have a look at some examples.
Examples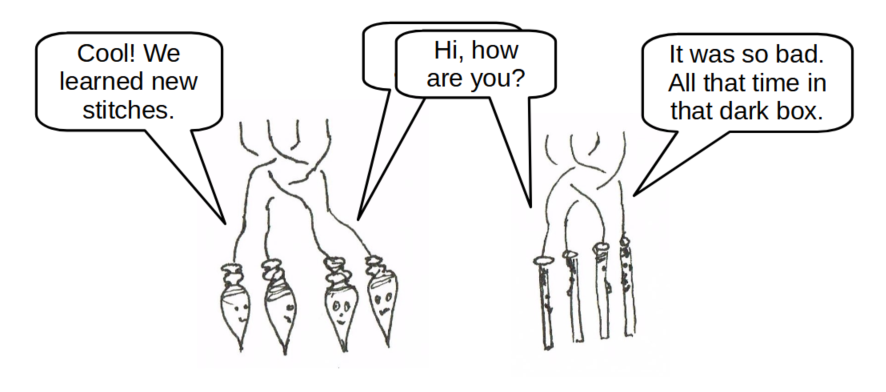 Ok, if you paid attention to the thread path and not the chatter of the bobbins, you will have noticed. There is no difference between the open and closed methods using the cloth stitch.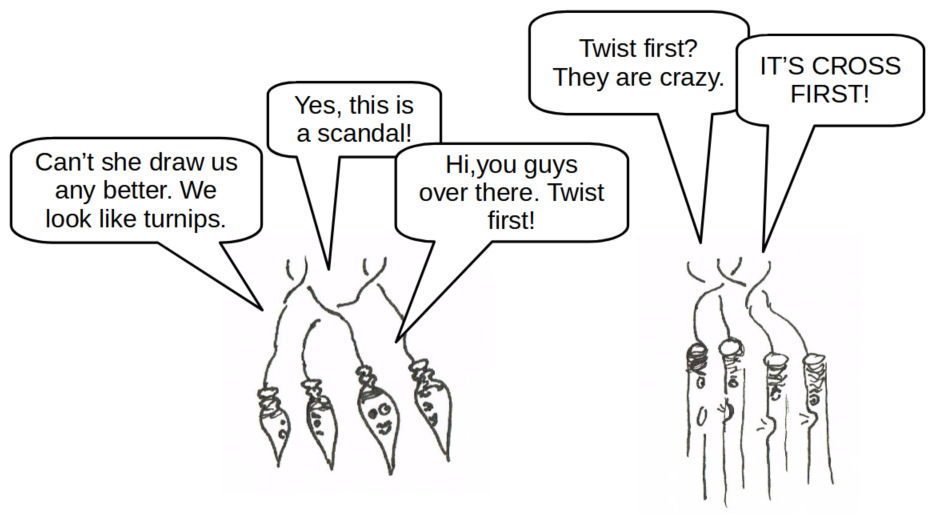 By the way, on the finished lace piece you can not see whether the open or the closed method was used.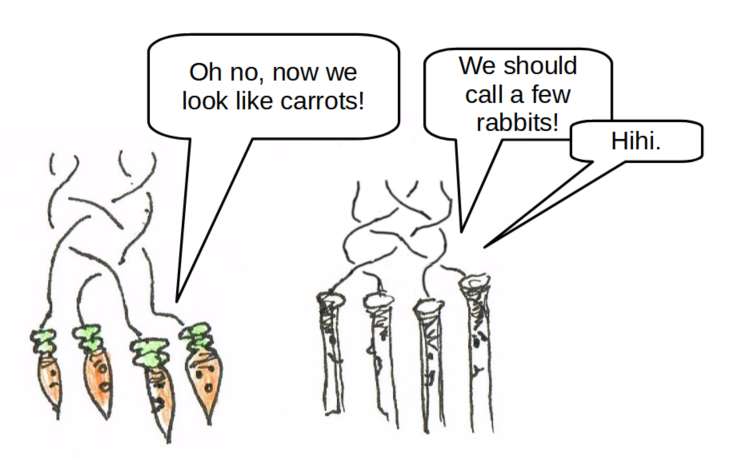 From an Austrian lace colleague I learned, that the Dieppe stitch also has two versions.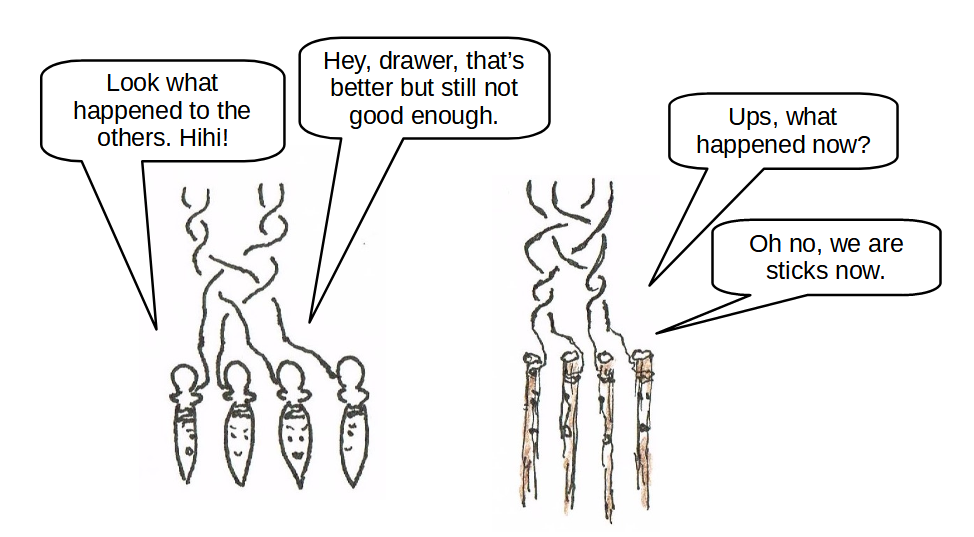 From a Dutch lace colleague I learned that the tulle stitch is tttc for open and ttct for closed. I have previously known only one tulle stitch and that was cttt. Another colleague summarized the whole thing by listining the possible variants of the tulle stitch.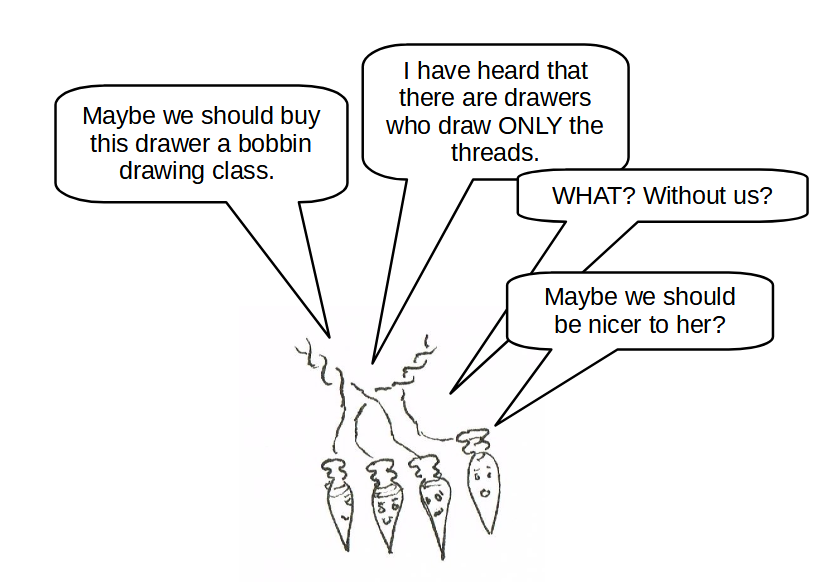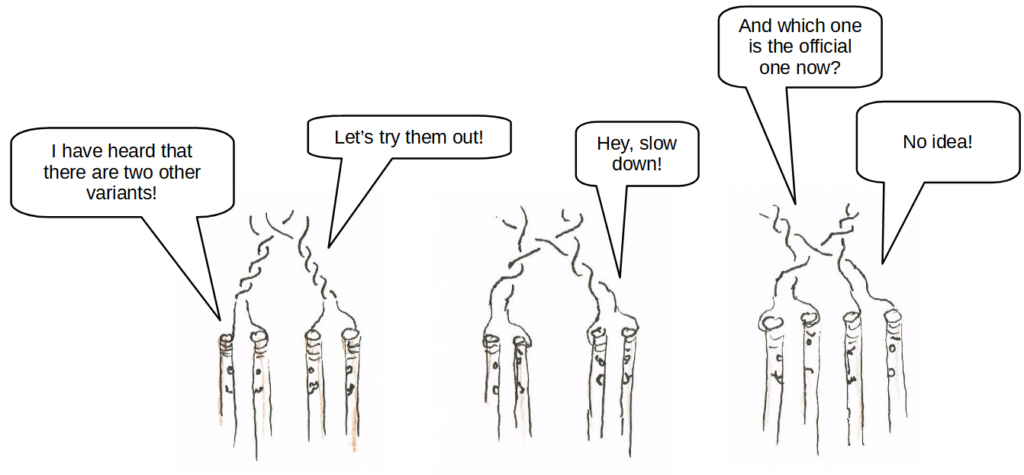 With this, we had left the clear world of theory and landed in reality.
Reality
First of all, lace makers are peope (even if others sometimes think they are beings from another dimension) and people have a tendency to do things in their own way. Therefore, they make lace on their pillow the way it fits best for them. They are using the closed method on a roll and vice versa or they invent their own method.
So, try out different methods, then decide for one and stick to it, because: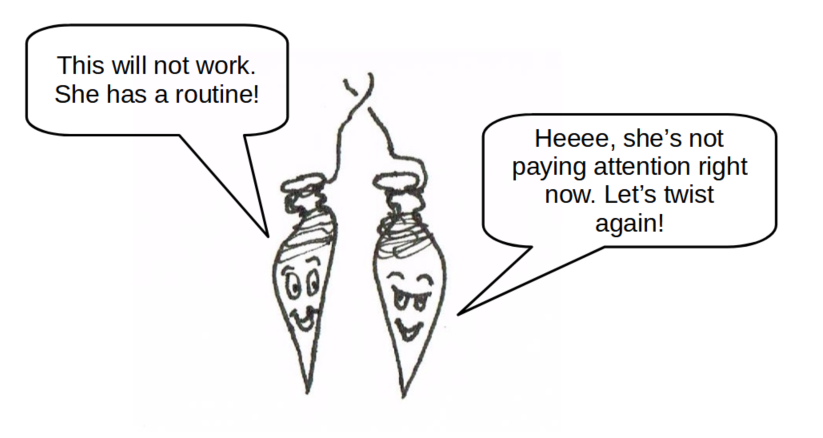 The following sources I used for this article:
---
Das Rätsel um die offene und geschlossene Methode des Klöppelns
Wenn sich weltweit eine Technik parallel entwickelt, kann man darauf wetten, das diese unterschiedlich umgesetzt wird. Das zeigt sich nicht nur an der Vielzahl von Mustern und Vorgehensweisen, die sich dabei entwickeln, sondern auch an dem unterschiedlichem Material, das verwendet wird, und der Art und Weise, wie es eingesetzt wird. Manchmal gibt es mehr Unterschiede als Ähnlichkeiten.
Klöpplerinnen weltweit waren sich – zumindest bis vor einigen Jahren – einig, das man für das Klöppeln Klöppel und ein Klöppelkissen benötigt. (Mittlerweile klöppelt es sich auch ohne Klöppel an der Wand und auf Tischen. Doch das ist dieses Mal nicht Thema). Worin sie sich nie einig waren, ist die Form und Herstellung der Klöppel und Klöppelkissen. Diese unterscheiden sich erheblich und das hat Auswirkungen darauf, wie geklöppelt wird.
die Vielfalt der Klöppelkissen reduziert auf zwei
Wer sich für die Vielfalt der Klöppelkissen interessiert, gibt das Wort am besten in seine bevorzugte Suchmaschine ein und betrachtet das Ergebnis. Ich reduziere die Vielfalt hier auf zwei verschiedene Klassen von Klöppelkissen, die für die Auflösung unseres Rätsels relevant sind: die Rolle und das Flachkissen.
Die Rolle eignet sich hervorragend, um längere Spitzenstücke wie Schals, Gardinen oder sonstige Meterware zu arbeiten, da die Nadeln nicht umgesteckt werden müssen. Arbeitet man mit sehr feinem Garn, ist das Flachkissen geeigneter.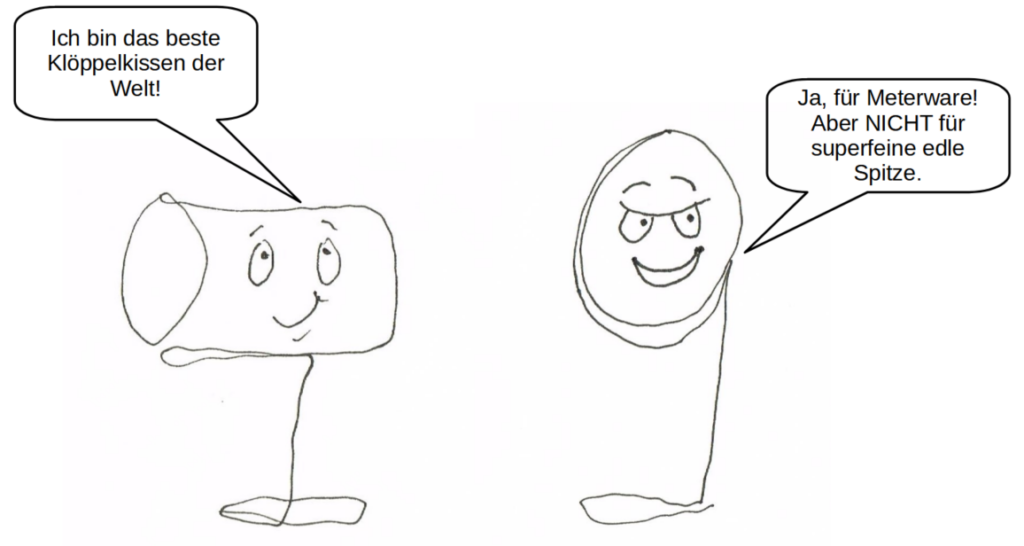 Bei der Rolle hängen die Klöppel an der Seite herunter, beim Flachkissen liegen sie auf dem Kissen. Das hat bestimmte Konsequenzen für die Klöppel und das Klöppeln. Wer wie ich meinte ausprobieren zu müssen, mit Flachkissenklöppel an einer Rolle zu arbeiten, weiß genau, wovon ich rede. Die Klöppel für eine Rolle sind deutlich schwerer, damit das Eigengewicht einen gewissen Zug auf das Garn ausübt. Sind die Klöppel zu leicht, fliegen sie einem nur so durcheinander und man sortiert mehr, als das man klöppelt.
Man kann auch versuchen mit Rollenklöppeln auf dem Flachkissen zu arbeiten. Das ist allerdings genau so eine gute Idee wie andersherum. Flachkissenklöppel sind nicht nur leichter, sondern auch schlanker und haben meist eine eckige Form, damit sie dort liegen bleiben, wo sie liegen sollen. Rollenklöppel sind meist rund und genießen es auf dem Flachkissen wilde Partys zu feiern.
Die Art des Klöppelkissens bestimmt also die Art der Klöppel mit. Doch nicht nur das. Es hat auch Auswirkungen auf die Art und Weise, wie Klöppelschläge ausgeführt werden und damit wären wir der Lösung unseres Rätsels bereits ganz nah.
offen und geschlossen
Klöppeln fasziniert mich, weil man mit zwei Klöppelpaaren und nur zwei Bewegungen – drehen (dr) und kreuzen (kr) – eine unendliche Vielfalt erschaffen kann. Diese Vielfalt wird allerdings abhängig davon, ob man eine Rolle oder ein Flachkissen verwendet, unterschiedlich erzeugt und Schuld daran ist die Drehung.
Schauen wir uns das Klöppeln an der Rolle einmal genauer an. Die Klöppel hängen an einer Seite und werden beim Klöppeln in der Regel paarweise zur Seite gesteckt. Dabei hält das Eigengewicht der Klöppel das Garn unter Spannung. Allerdings nicht so sehr, dass ein Paar sich nicht doch einmal heimlich um sich selbst drehen könnte, wenn es zum Beispiel umgesteckt wird.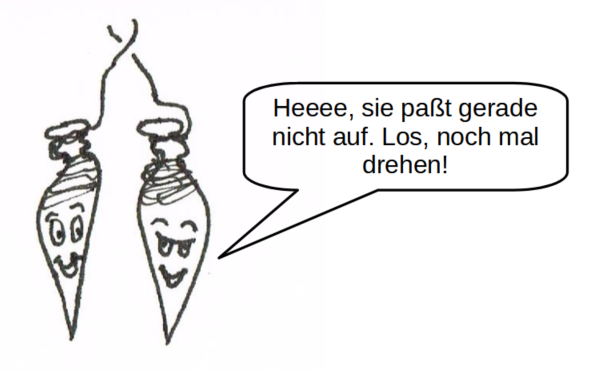 Angenommen wir haben einen Schlag ausgeführt, der am Ende mit einer Drehung endet. Unser rebellisches Klöppelpaar führt bei nächster Gelegenheit eine weitere Drehung durch, die wir nicht bemerken und – zack – haben wir zwei Drehungen. Da wir nicht jedes Mal nachzählen, ob es nun tatsächlich nur eine Drehung ist, schleicht sich schnell ein Fehler ein. Da wir Klöpplerinnen clever sind, haben wir uns darauf geeinigt, dass ein Schlag auf der Rolle immer mit einem Kreuzen endet. Dies nennt man die offene Methode, da die Fäden eines Paares immer parallel – also offen – vor uns liegen. Dann fällt ein gedrehtes Paar natürlich immer sofort als Fehler auf.
Auf dem Flachkissen bleiben die Klöppel in der Regel dort liegen, wo man sie hingelegt hat. (Außer man will unbedingt mit lebhaften runde Klöppeln klöppeln). Daher hat sich das Klöppeln hier anders entwickelt und, wenn ein Paar nach einem Schlag gedreht liegt, liegt es eben gedreht. Das nennt man dann die geschlossene Methode, da die Fäden eines Paares sozusagen miteinander "verdrillt" sind. Schauen wir uns ein paar Beispiele an:
Beispiele

Ok, wenn du auf den Verlauf der Fäden geachtet hast und nicht auf das Geschnatter der Klöppel, wirst du es bemerkt haben. Beim Leinenschlag gibt es keinen Unterschied zwischen der offenen und der geschlossenen Methode.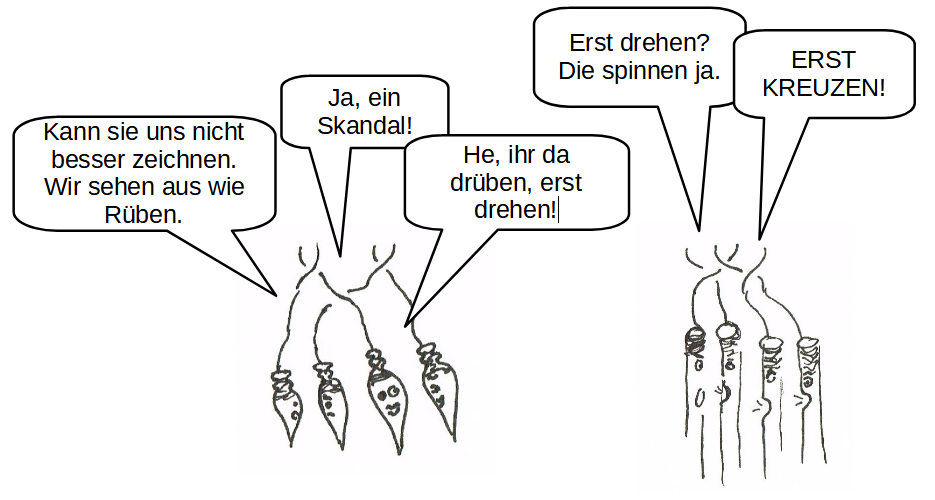 Falls du dich das gefragt haben solltest: am Ende sieht man der Spitze nicht an, ob sie in der offenen oder geschlossenen Methode gearbeitet wurde.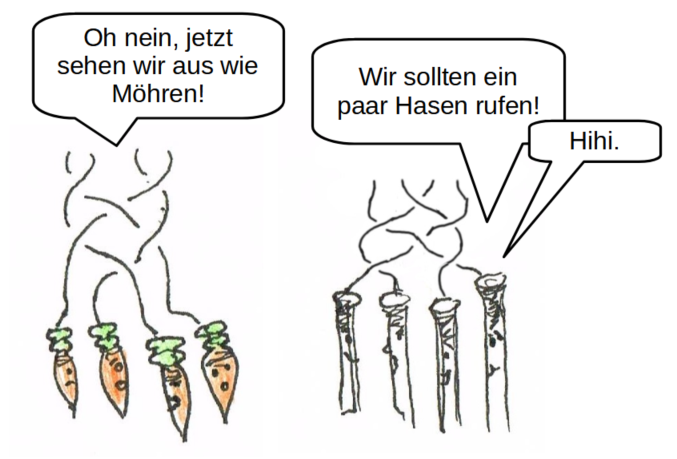 Von einer österreichischen Klöppelkollegin habe ich erfahren, dass es vom Dieppeschlag ebenfalls eine offene und eine geschlossene Version gibt.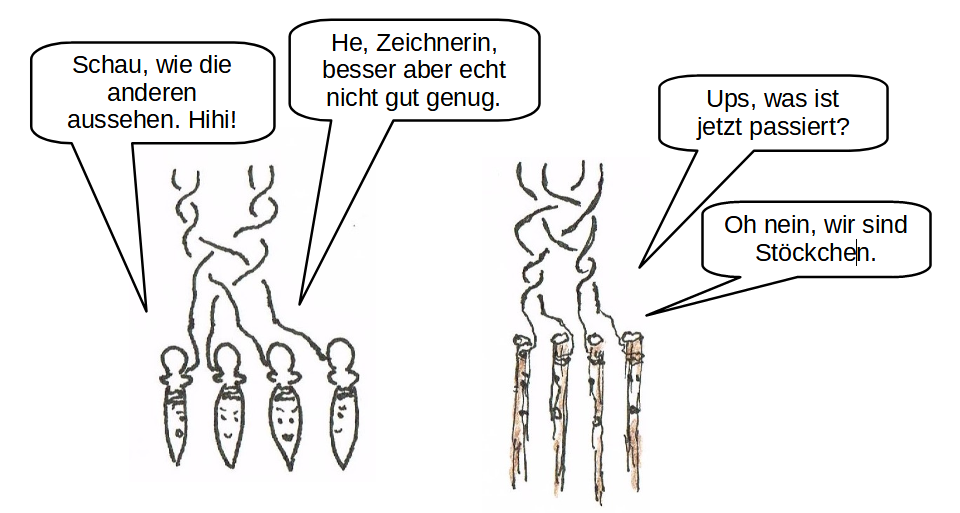 Von einer niederländischen Kollegin erfuhr ich, dass der Tüllschlag dr dr dr kr für offen und dr dr kr dr für geschlossen gearbeitet wird. Ich hatte bis dahin nur einen Tüllschlag gekannt und zwar kr dr dr dr. Eine weitere Kollegin fasste das ganze zusammen, in dem sie die möglichen Varianten des Tüllschlags listete.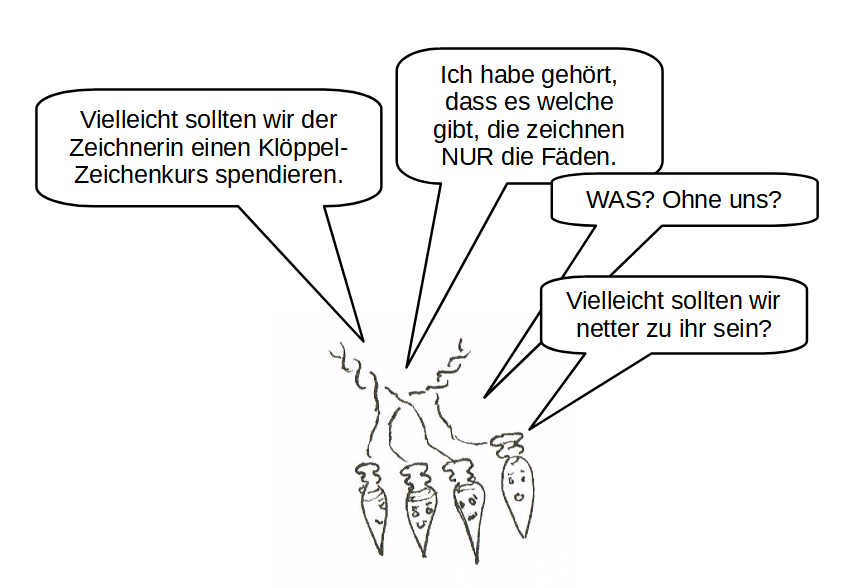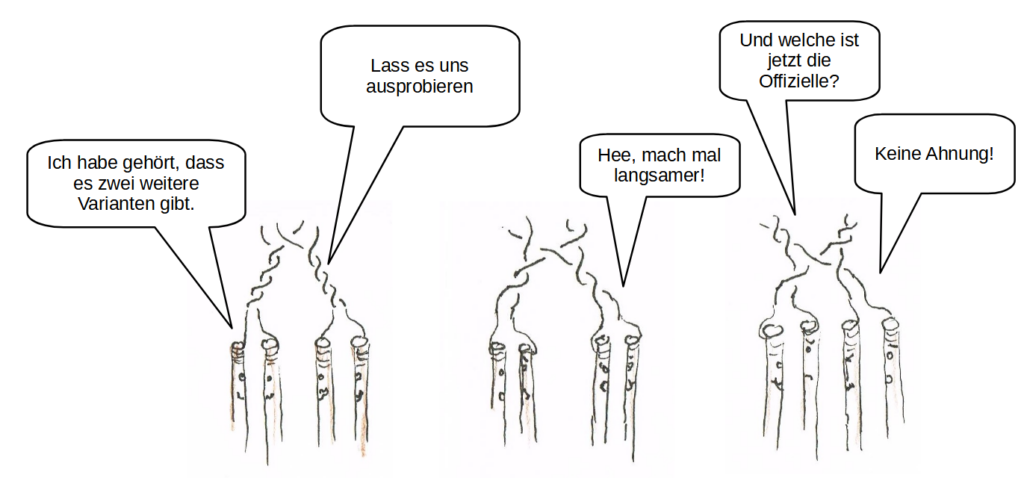 Damit hatten wir die übersichtliche Welt der Theorie verlassen und waren in der Realität gelandet.
Realität
Klöpplerinnen sind Menschen (auch wenn andere sie manchmal für Wesen aus einer anderen Dimension halten) und Menschen neigen dazu, die Dinge auf ihre eigene Art und Weise zu tun. Auf ihren Klöppelkissen nutzen sie die Variante, die für sie am besten passt. Das kann die geschlossene Methode auf dem Rollkissen sein oder die offene auf dem Flachkissen oder eine ganz eigene.
Probiere am besten verschiedene Varianten aus, entscheiden dich dann für eine und bleib dabei, denn: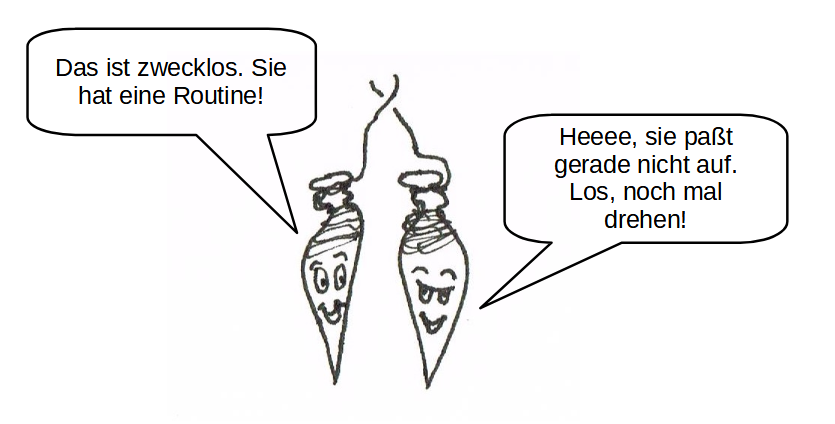 Die folgenden Ressourcen habe ich für diesen Artikel verwendet:
Anmerkung: Im Artikel wird – wo es notwendig war sich zu entscheiden – die weibliche Form verwendet. Die Menschen männlicher Form mögen sich einfachheitshalber einfach dazu denken.