For the German version please scoll down.
This post is part of the Lace Design Challenge 2022.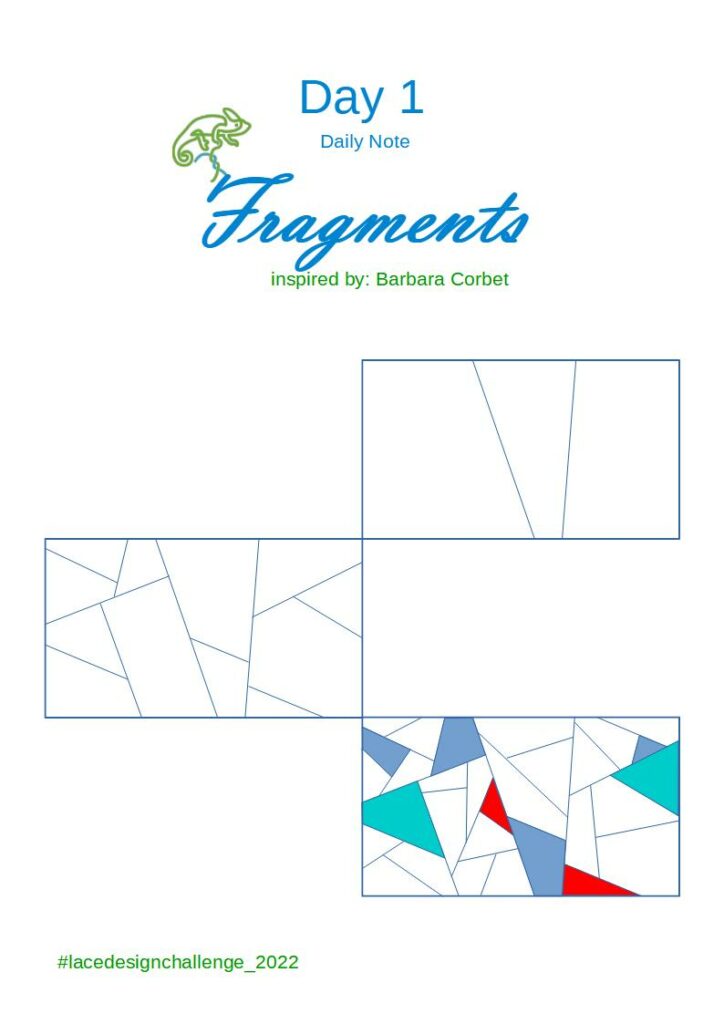 This design technique is based on a method which I got to know in a design course conducted by Barbara Corbet. The technique is especially useful if you want to experiment with lines and fragments.
Instruction
Draw a not too small rectangle for your design.
Draw 2 to 3 straight lines (non parallel) from top to bottom inside the rectangle.
Add more straight lines, each running from one line to the next. Make sure that the lines are not running parallel to each other.
Decide which of the resulting fragments should be filled.
If you feel like it, play around with your design and break the rules, e.g. use curved lines or extend lines.
If you like, share your design with others and collect some feedback.
---
Klöppelentwurfstechnik 01 – Fragmente
Dieser Blogpost ist Teil der Lace Design Challenge 2022.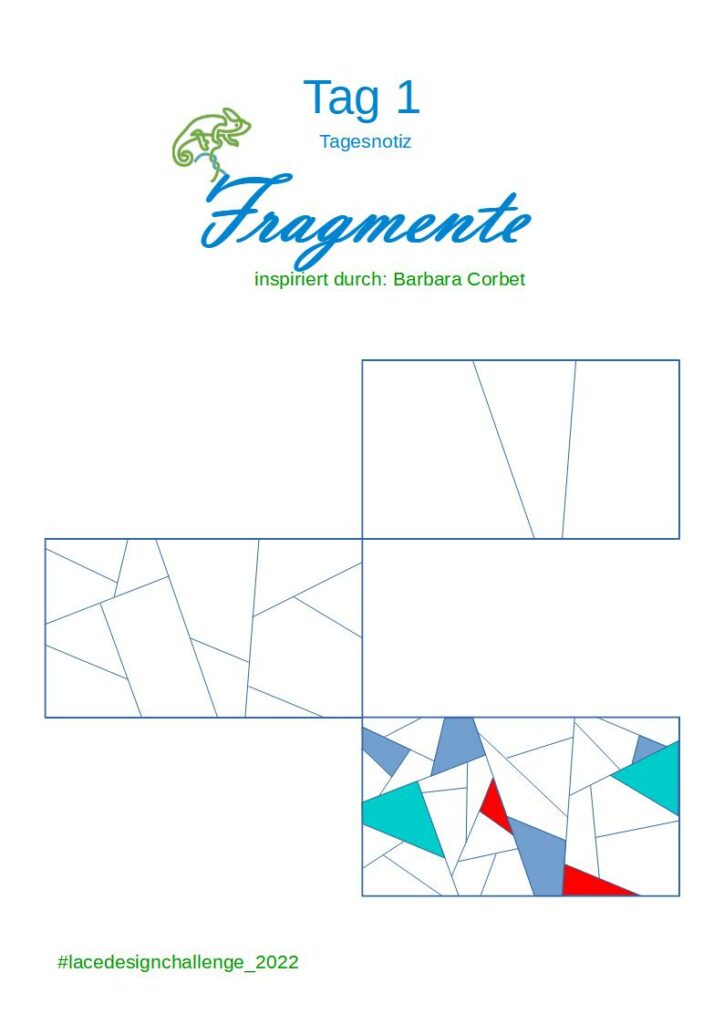 Diese Entwurfstechnik basiert auf einer Methode, die ich in einem Entwurfskurs von Barbara Corbet kennengelernt habe. Die Technik eignet sich besonders dafür, wenn man mit Linien und Fragmenten experimentieren will.
Anleitung
Zeichne ein nicht zu kleines Rechteck als Entwurfsfläche.
Dann zeichne 2 bis 3 gerade Linien (nicht parallel) von oben nach unten in das Rechteck.
Füge weitere gerade Linien hinzu, so dass sie von einer bereits gezeichneten Linie zur nächsten laufen. Achte darauf, dass die Linien nicht parallel zueinander verlaufen.
Entscheide, welche der entstandenden Fragmente du mit Füllungen versehen willst.
Experimentiere mit dem Entwurf und breche die Regeln. Verwende kurvige Linien oder lass Linien über das Rechteck hinauslaufen oder oder oder…
Wenn du magst, zeige jemandem deine Entwürfe und hole dir Feedback ein.