For the German version please scoll down.
This post is part of the Lace Design Challenge 2022.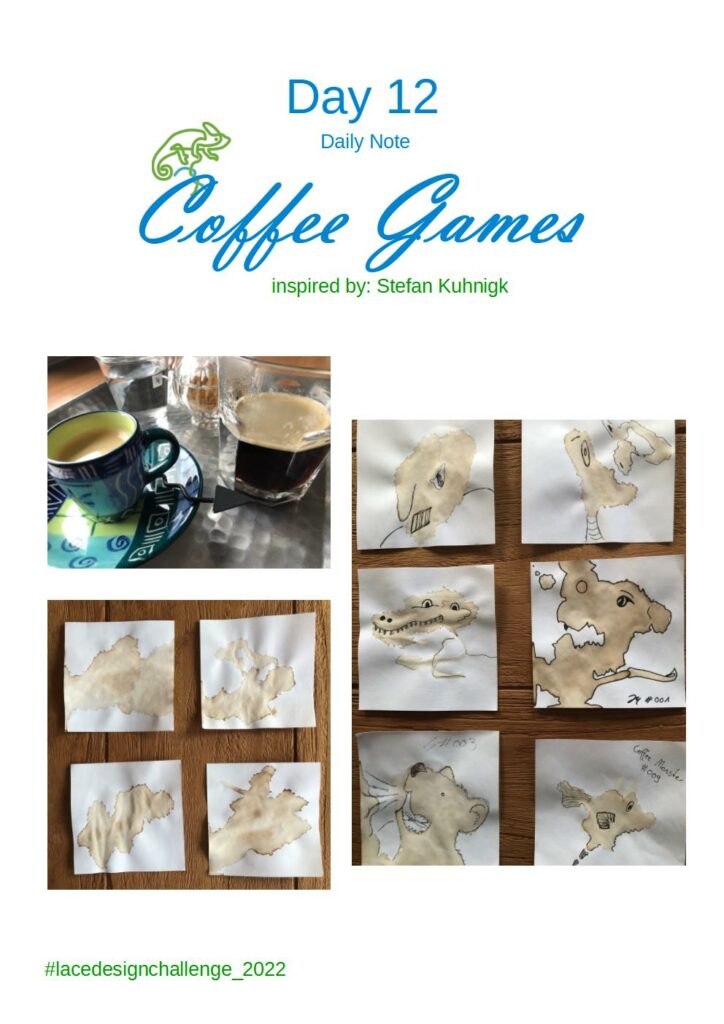 In 2016, I stumbled across the book "The Coffemonsters Book" by Stefan Kuhnigk. The coffee monsters excited me right away and since I'm also a coffee drinker, I had to try it out right away. Of course, not only monsters can be drawn from the spots, but drawing monsters is especially fun.
Instruction
Take two cups of coffee (or tea), a pile of small pieces of paper and a surface on which coffee may be spilled.
Spread the slips of paper on this surface, take a sip of coffee from one cup. Then pour, drip or splash the contents of the second cup over the papers.
Let the whole thing dry. Then look at it. Take your time! What do you see in the dried spots?
Take a pencil and work out what you see in the spots.
If you like, publish your design using #lacedesignchallenge_2022.
---
Klöppelentwurfstechnik 12 – Kaffeespiele
Dieser Blogpost ist Teil der Lace Design Challenge 2022.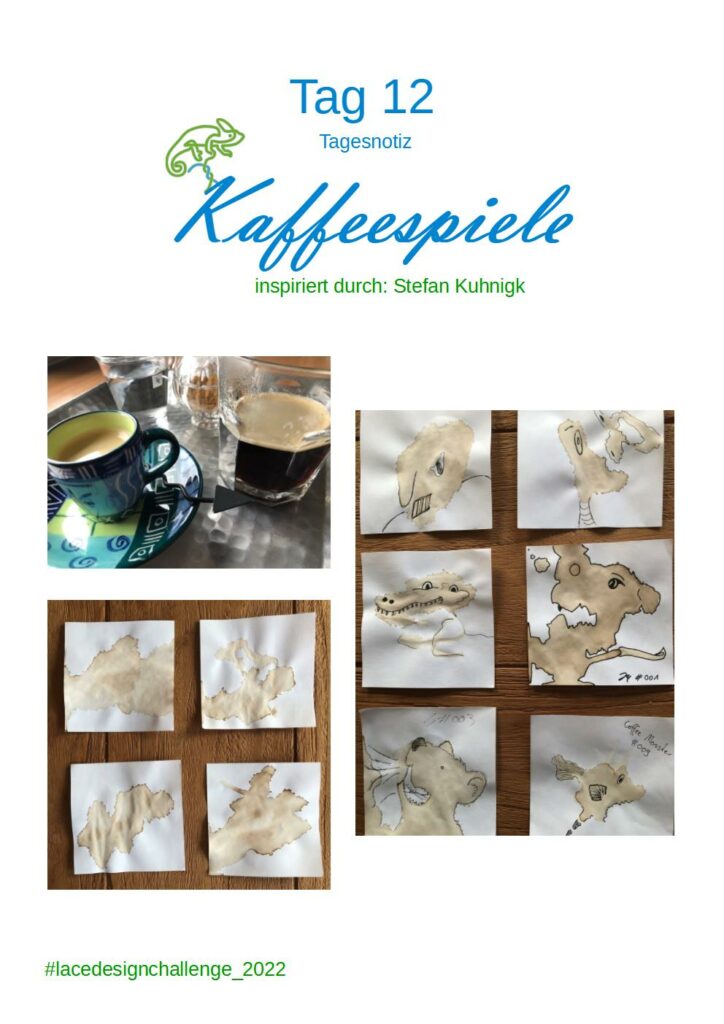 2016 stolperte ich über das Buch "The Coffemonsters Book" von Stefan Kuhnigk. Die Kaffeemonster haben mich gleich begeistert und da ich zudem Kaffeetrinkerin bin, mußte ich das gleich ausprobieren. Natürlich lassen sich aus den Flecken nicht nur Monster zeichnen, aber Monster zeichnen macht besonders viel Spaß.
Anleitung
Nimm zwei Tassen Kaffee (oder Tee), einen Stapel kleiner Zettel und eine Unterlage, auf die Kaffee verschüttet werden darf.
Verteile die Zettel auf dieser Fläche, nimm einen Schluck Kaffee aus der einen Tasse. Dann gieße, tropfe oder spritze den Inhalt der zweiten Tasse über die kleinen Zettel.
Lass das Ganze trocknen. Dann betrachte die Zettel. Lass dir dabei Zeit. Was siehst du in den getrockneten Flecken?
Nimm einen Stift und arbeite die Flecken aus.
Wenn du magst, veröffentliche deine Ergebnisse #lacedesignchallenge_2022.