German version please scoll down.
This post is part of the Lace Design Challenge 2022.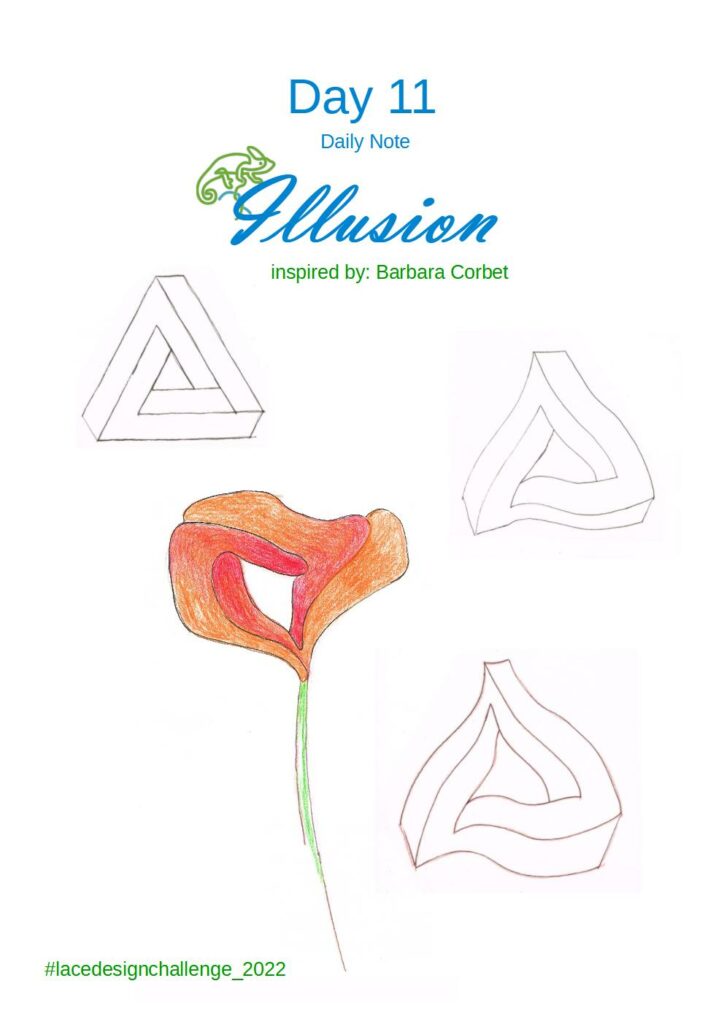 Illusions have interested me for a long time. So I was very excited when there was a design course on the subject by Barbara Corbet . It was from this course that I got the idea of approaching the subject through impossible objects that translate well into lace. If you haven't worked with impossible objects before, the best way to approach the topic is to start with one of these objects and retrace the construction. Templates for this can be found here, for example. Based on this, it is easier to construct your own objects. Have fun!
Instruction
You can find impossible objects on the internet via the search engine. There are also wonderful books and cards on the subject, which you can also find in the library.
Pick an object and experiment with it. You can either load it into your image editor or print it out, whichever you prefer. If you print it out, you can put some tracing paper over it and trace the object first to get a feel for the construction.
When the construction is clear, change small things until you can draw the object by heart.
Now vconstruct your own object.
If you like, publish your result using #lacedesignchallenge_2022.
---
Klöppelentwurfstechnik 11 – Illusion
Dieser Blogpost ist Teil der Lace Design Challenge 2022.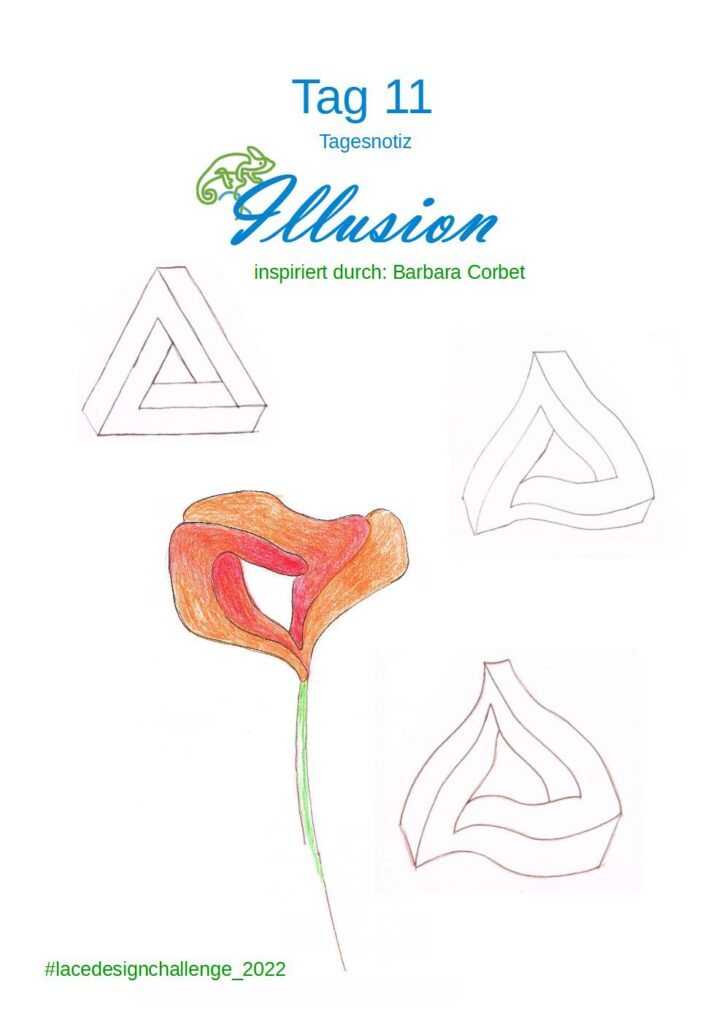 Illusionen und unmögliche Objekte haben mich schon lange interessiert. So war ich sehr begeistert, als es zu dem Thema einen Entwurfskurs von Barbara Corbet gab. Aus diesem Kurs stammt auch die Idee, sich dem Thema über unmögliche Objekte zu nähern, die sich gut in Spitze umsetzen lassen. Wer noch nicht mit unmöglichen Objekten gearbeitet hat, nähert sich dem Thema am besten, indem man sich zunächst einmal mit einem dieser Objekte auseinandersetzt und die Konstruktion nachvollzieht. Vorlagen dazu finden sich zum Beispiel hier. Davon ausgehend fällt es leichter, eigene Objekte zu konstruieren. Viel Spaß dabei!
Anleitung
Unmögliche Objekte findest du im Internet über die Suchmaschine. Es gibt zu dem Thema aber auch wunderbare Bücher und Karten, die du auch in der Bibliothek findest.
Such dir ein Objekt aus und experimentiere damit. Du kannst es entweder in dein Bildbearbeitungsprogramm laden oder es ausdrucken, je nachdem was du bevorzugst. Wenn du es ausdruckst, kannst du z.B. ein Transparentpapier drüber legen und das Objekt zunächst einmal nachzeichnen, um ein Gefühl für die Konstruktion zu entwickeln.
Wenn die Konstruktion klar ist, ändere zunächst einmal Kleinigkeiten bis du das Objekt auswendig zeichnen kannst.
So, und jetzt konstruiere dein eigenes Objekt.
Wenn du magst, veröffentliche dein Ergebnis unter #lacedesignchallenge_2022.