For the German version please scoll down.
This post is part of the Lace Design Challenge 2022.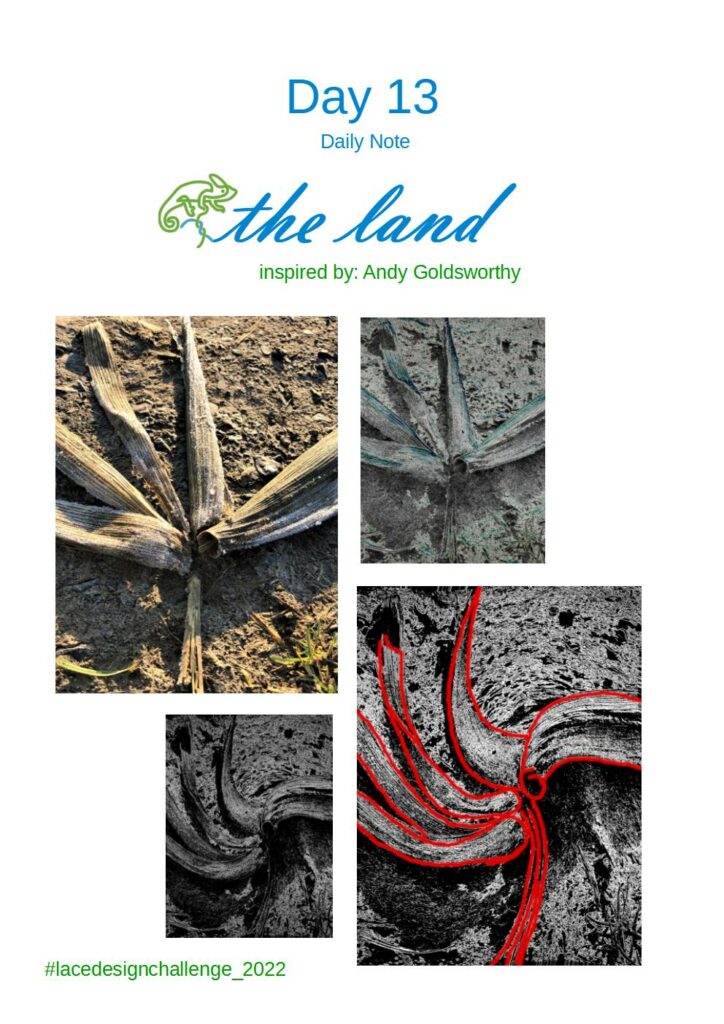 There is one drawback to lace making. You have relatively little movement. Therefore, I have always looked with some envy at "land art" artists like Andy Goldsworthy. They pursue their art in nature, are in the fresh air and at the same time have enough exercise. It took me a while to come up with the idea that land art and lace design can, of course, be combined. That would solve the drawback. So off to nature!
Instruction
Go outside and look around. Is there a place where you can find natural materials or others? Stones? Leaves? Grasses? Flowers? Cans? Shards of glass?
Use the material you found and create something, for example a picture or a sculpture. Really only use the material you found.
Take a picture of it.
When you get back home, use the photo and your experience as inspiration for your design. You can use the photo and manipulate it in your image processing program, for example, or you can just start drawing.
If you like, post your photo and your design under #lacedesignchallenge_2022.
---
Klöppelentwurfstechnik 13 – das Land
Dieser Blogpost ist Teil der Lace Design Challenge 2022.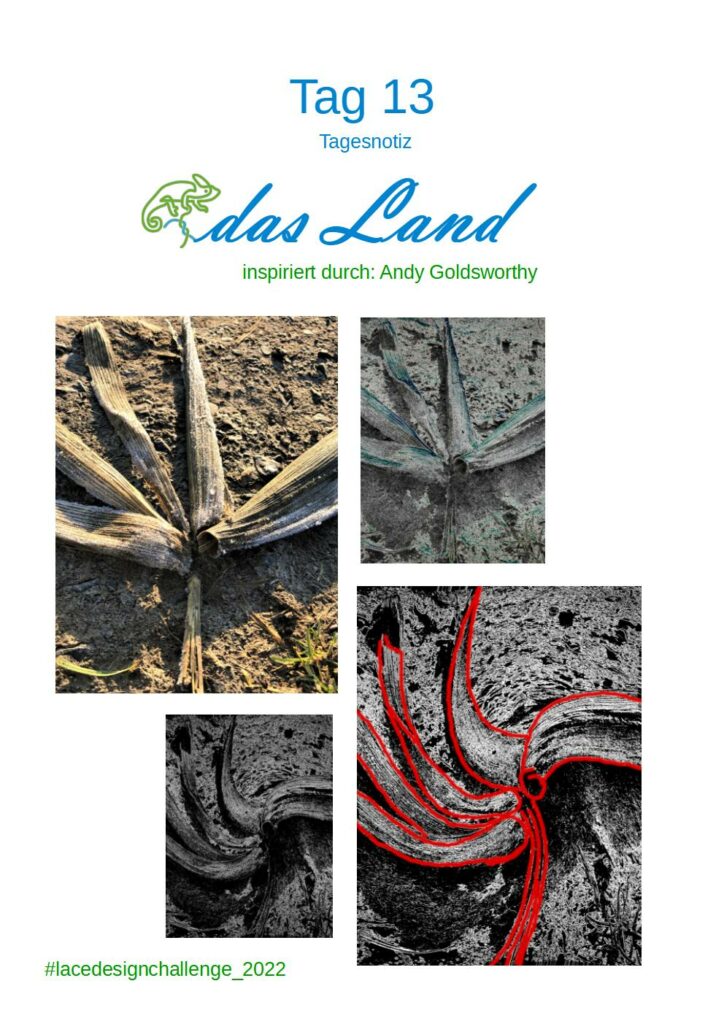 Einen Nachteil hat das Klöppeln. Man hat relativ wenig Bewegung. Daher habe ich immer mit etwas Neid auf "Land Art" Künstler wie Andy Goldsworthy geschaut. Sie gehen ihrer Kunst in der Natur nach, sind an der frischen Luft und haben gleichzeitig auch noch ausreichend Bewegung. Es dauerte eine Weile bis ich darauf kam, dass man Land Art und den Entwurf von Spitze natürlich auch kombinieren kann. Damit wäre der Nachteil dann behoben. Also auf in die Natur!
Anleitung
Geh nach draußen und schaue dich um. Gibt es einen Ort, an dem du Naturmaterialien oder andere findest? Steine? Laub? Gräser? Blumen? Dosen? Glassplitter?
Verwende das gefundene Material und kreiere etwas, z.B. ein Bild oder eine Skulptur. Verwende dabei wirklich nur das Material, das du gefunden hast.
Mache ein Foto davon.
Wenn du wieder zu Hause bist, nutze das Foto und deine Erfahrungen als Inspiration für deinen Entwurf. Du kannst das Foto dazu verwenden und es zum Beispiel in deinem Bildverarbeitungsprogramm verfremden oder du fängst einfach an zu zeichnen.
Wenn du magst, veröffentliche dein Photo und deinen Entwurf unter #lacedesignchallenge_2022.