For the German version please scoll down.
This post is part of the Lace Design Challenge 2022.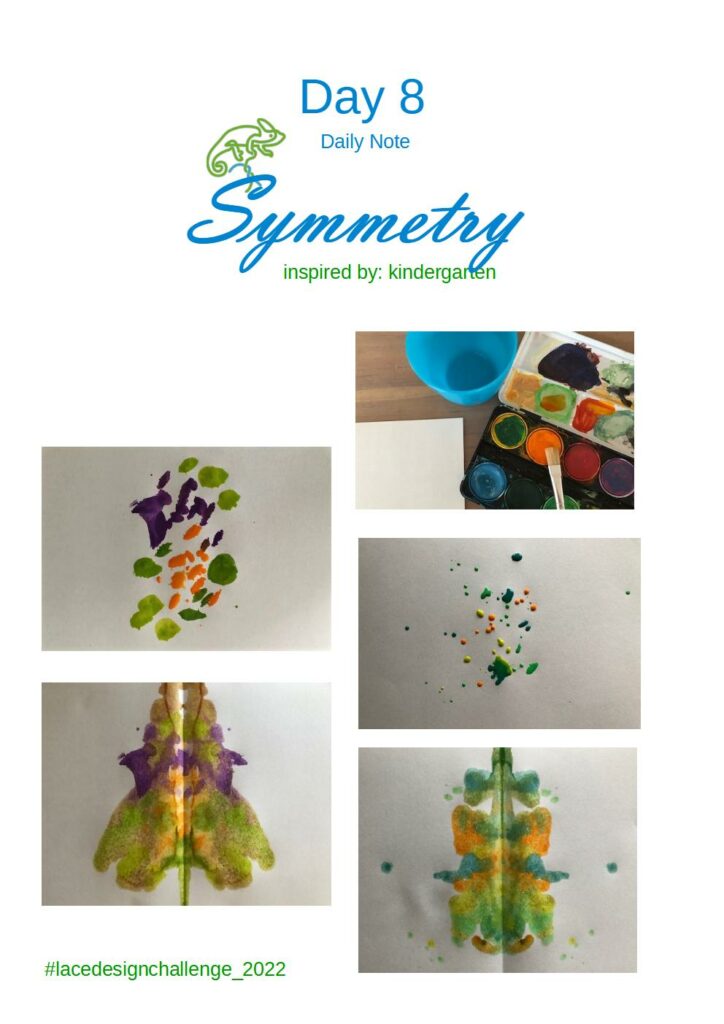 I can't remember the first time I tried this technique. Probably in kindergarten. When I came across it again and started experimenting with it, my head got in the way, wanting to set the colors in a planned way. But I always got the best results when I just let the colors drip onto the paper in a mess. Don't the results look like wonderful flower shapes that sheerly call for lace-making?
Instruction
You'll need a piece of paper and watercolors or another colored liquid like coffee or tea.
Let some of the liquid flow onto the paper. Make sure it's not too much or you'll have muddy paper.
Then fold the paper so that the liquid is distributed on it.
Let the result surprise and inspire you.
If you like, publish your design using #lacedesignchallenge_2022.
---
Klöppelentwurfstechnik 08 – Symmetrie
Dieser Blogpost ist Teil der Lace Design Challenge 2022.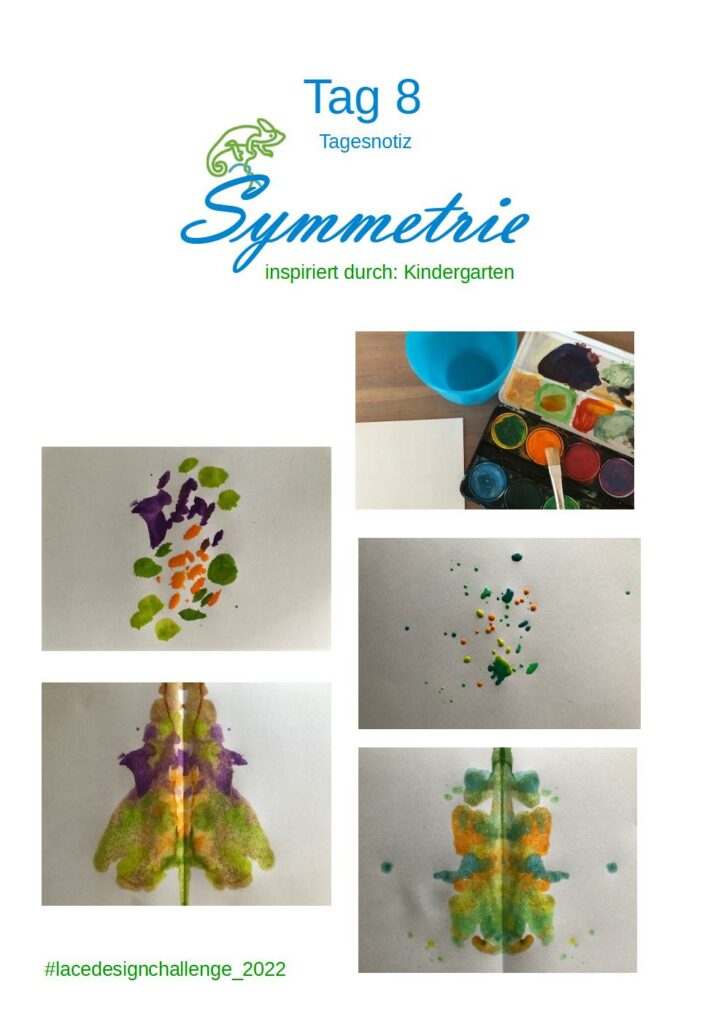 Ich kann mich nicht erinnern, wann ich diese Technik das erste Mal ausprobiert habe. Vermutlich im Kindergarten. Als ich wieder darauf gestossen bin und anfing damit zu experimentieren, war mein Kopf im Weg, der die Farben geplant setzen wollte. Die besten Resultate habe ich aber immer erzuegt, wenn ich die Farben einfach durcheinander auf das Papier hab tropfen lassen. Gibt das nicht wunderbare Blütenformen, die nach Umsetzung in Spitze rufen?
Anleitung
Du brauchst ein Stück Papier und Wasserfarben oder eine andere gefärbte Flüssigkeit wie Kaffee oder Tee.
Lass einen Teil der Flüssigkeit auf das Papier fliessen. Achte darauf, dass es nicht zuviel ist, sonst hast du matschiges Papier.
Dann falte das Papier zusammen, so dass sich die Flüssigkeit darauf verteilt.
Lass dich vom Ergebnis überraschen und inspirieren.
Wenn du magst, veröffentliche dein Ergebnis unter #lacedesignchallenge_2022.