For the German version please scoll down.
This post is part of the Lace Design Challenge 2022.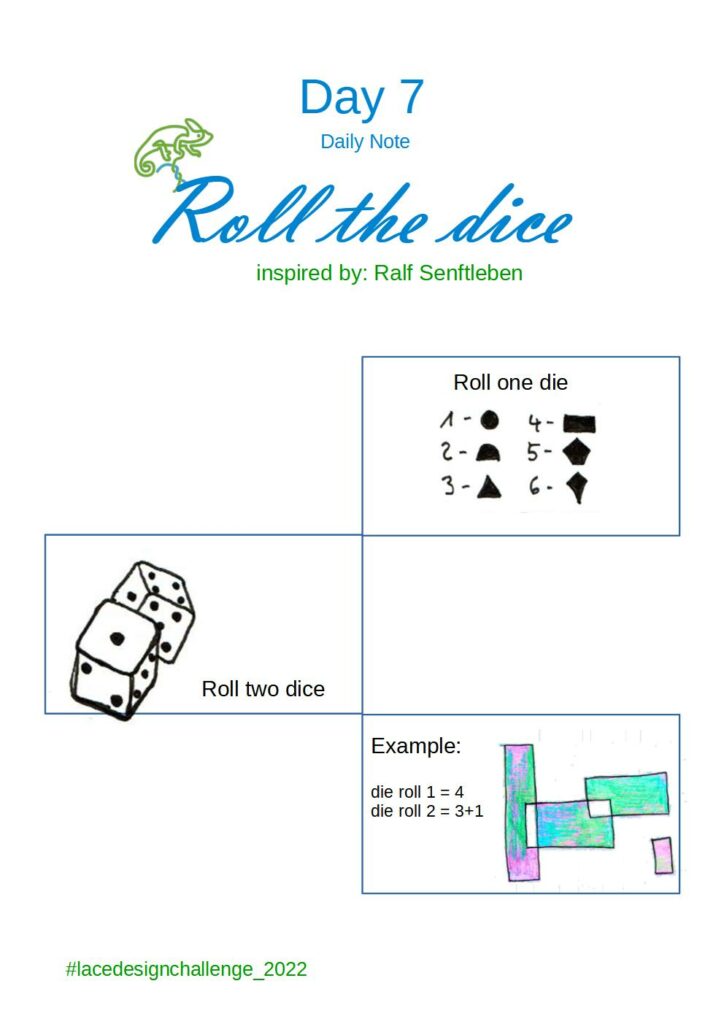 It must have been ages since I bought a dice game from Ralf Senftleben. (As far as I know it is not available anymore). The game was mainly about self-knowledge and exchange. Two dice were used to determine the theme and the action. So not a game for designing lace, but a technique that can be wonderfully adapted to it. Here is my proposal:
Instruction
Roll one die to decide which shape you will use for your design.
Assignment: 1 – circle, 2 – semicircle, 3 – triangle, 4 – rectangle, 5 – pentagon, 6 – rhombus
Roll two dice to determine how many of the shape you can use for your design.
Try different sizes of your shape. Maybe cut out the shapes to make it easier to play with different combinations.
Of course, you can also invent your own rules for the dice rolls and experiment with them.
If you like, publish your design(s) and/or rules using #lacedesignchallenge_2022.
---
Klöppelentwurfstechnik 07 – Wirf den Würfel
Dieser Blogpost ist Teil der Lace Design Challenge 2022.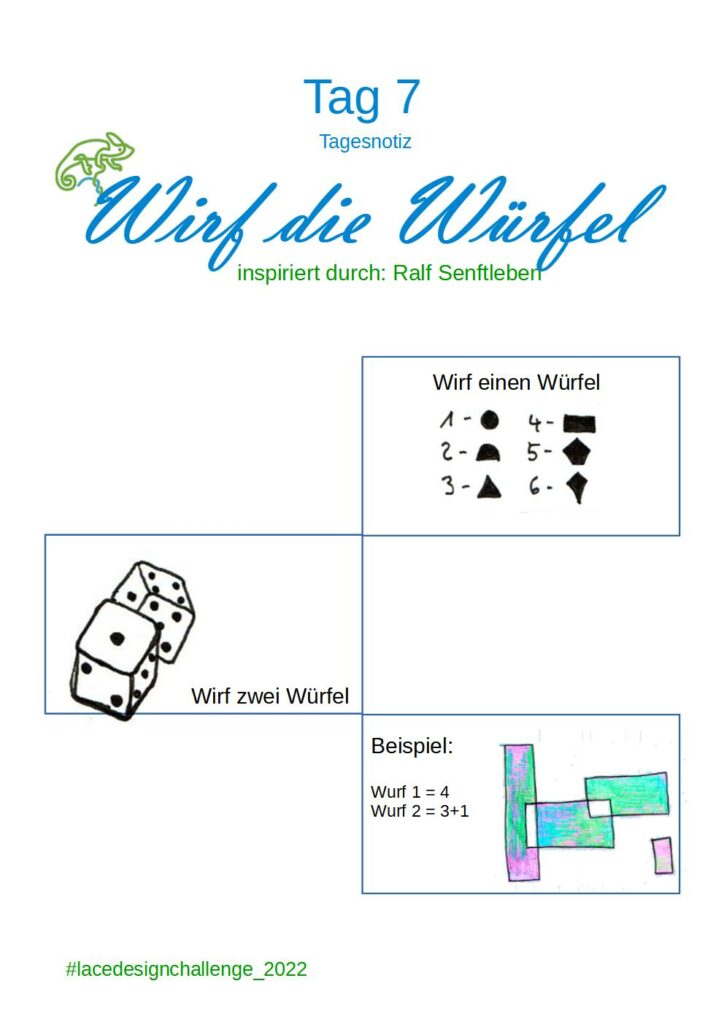 Es muss ewig her sein, dass ich von Ralf Senftleben ein Würfelspiel gekauft habe. (Soweit ich weiß, ist es nicht mehr verfügbar). Bei dem Spiel ging vor allem um Selbsterkenntnis und Austausch. Mit zwei Würfeln wurde das Thema und die Aktion festgelegt. Also kein Spiel zum Entwerfen von Spitze, aber eine Technik, die sich wunderbar dazu adaptieren läßt. Hier mein Vorschlag:
Anleitung
Würfle mit einem Würfel, um zu entscheiden, welche Form du für deinen Entwurf verwenden wirst:
Zuweisung: 1 – Kreis, 2 – Halbkreis, 3 – Dreieck, 4 – Rechteck, 5 – Fünfeck, 6 – Raute
Würfle mit zwei Würfeln, um zu bestimmen, wie viele der Form du für deinen Entwurf verwenden kannst.
Probiere verschiedene Größen der Form aus. Schneide die Formen ggf. aus, um das Spiel mit verschiedenen Kombinationen zu erleichtern.
Natürlich kannst du auch eigene Regeln für die Würfelwürfe erfinden und damit experimentieren.
Wenn du magst, veröffentliche deine Zeichnungen und/oder Würfel-Regeln unter #lacedesignchallenge_2022.