For the German version please scoll down.
This post is part of the Lace Design Challenge 2022.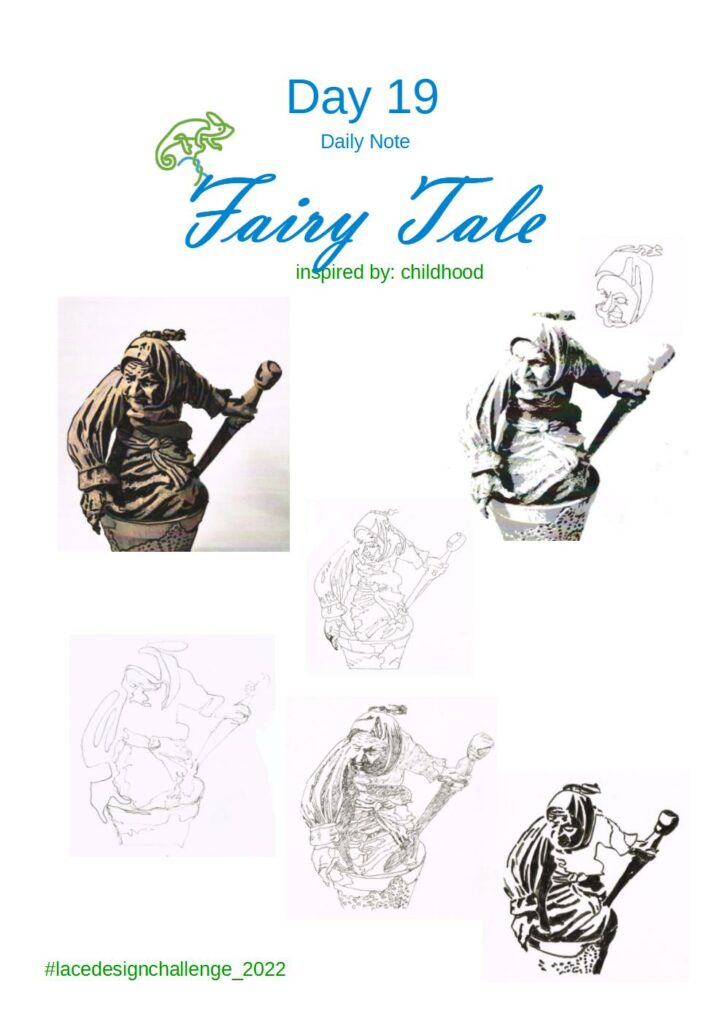 Working with prints and copies helps, in my view, to try out different techniques. In this case, we will use a figure as a practice object. For example, you can draw the figure as an one line drawing, or fill in the darker areas with black, or doodle. You can use a fineliner, ink, crayons, wax crayons – whatever you like. Try different techniques and materials and let yourself be surprised by the result.
Instruction
Choose a character from a fairy tale.
Find an illustration, a photograph or a picture on the Internet and print it out.
Draw either directly on the printout or put a tracing paper over it and draw on it. Try different variations.
Alternatively, you can draw the figure in different variations.
Use the result as inspiration for your design. If you like, share it using #lacedesignchallenge_2022.
---
Klöppelentwurfstechnik 19 – Märchen
Dieser Blogpost ist Teil der Lace Design Challenge 2022.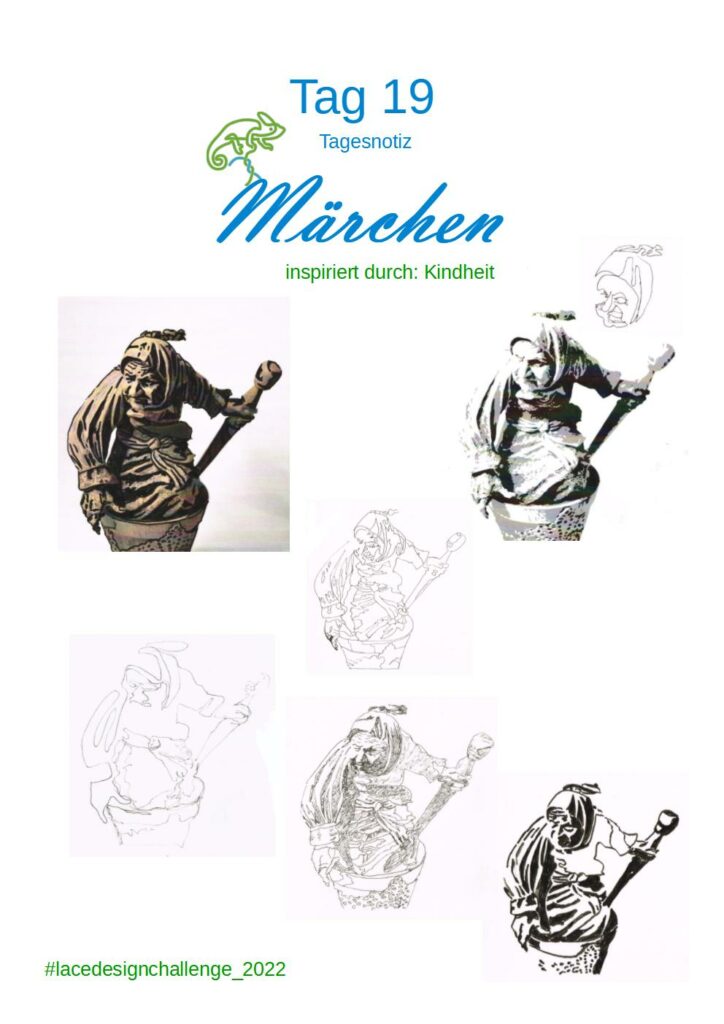 Mit Ausdrucken und Kopien zu arbeiten, hilft aus meiner Sicht dabei verschiedene Techniken auszuprobieren. In diesem Fall verwenden wir als Übungsobjekt eine Figur. Du kannst diese z.B. als Einstrichzeichnung umsetzen, oder die dunkleren Stellen schwarz ausfüllen, oder kritzeln. Du kannst einen Fineliner dazu nutzen, Tusche, Buntstifte, Wachsmalkreiden – ganz wie es dir gefällt. Probiere unterschiedliche Techniken und Materialien aus und lass dich vom Ergebnis überraschen.
Anleitung
Suche dir eine Figur aus einem Märchen aus.
Suche dir dazu eine Illustration, eine Photografie oder ein Bild im Internet und drucke sie aus.
Zeichne entweder direkt auf dem Ausdruck oder lege ein Transparentpapier drüber und zeichne darauf. Probiere verschiedene Varianten aus.
Alternativ kannst du die Figur natürlich auch in verschiedenen Varianten zeichnen.
Nutze das Ergebnis als Inspiration für dein Design. Wenn du magst, teile es unter #lacedesignchallenge_2022.