For the German version please scoll down.
This post is part of the Lace Design Challenge 2022.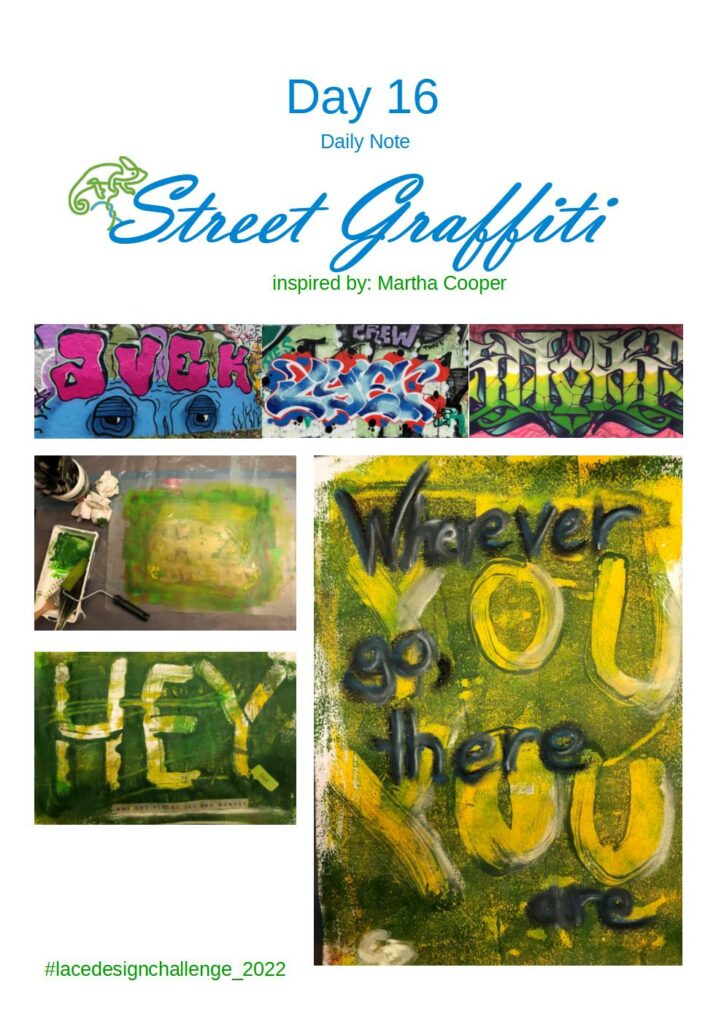 Some weeks ago I saw a documentary film about Martha Cooper and how passionate she is about street graffiti. Only then did I really notice graffiti. I was amazed at what I discovered in my city and what power was in some of the graffiti. My advice: pay attention to it, too!
Instruction
This time it's about lettering. First get inspired by the art of lettering in street graffitis. I hope you find some nearby. If not, just google a bit. Which graphic makes you pause?
Now create a painting or picture from letters and words. You can draw the letters yourself or cut them out of graffitis or magazines and combine them in a new way.
You can also paint or draw over them as you please.
If you like, post the result from your experiment #lacedesignchallenge_2022.
Tips
A printing technique is very suitable for this purpose. Since the point is not to buy extra material for this challenge, I used an old painter's roller, an old rubber desk pad and what acrylic paints I had there. I was quite surprised by the result. I would not have thought that old desk pads make such a great "printing plate".
---
Klöppelentwurfstechnik 16 – Straßengraffiti
Dieser Blogpost ist Teil der Lace Design Challenge 2022.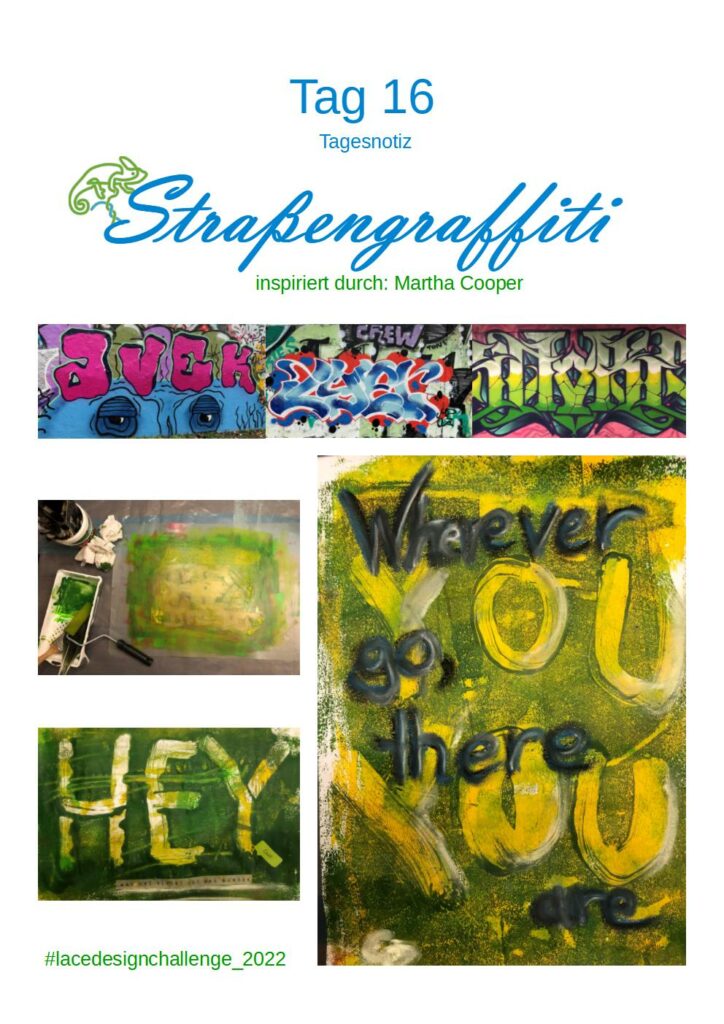 Vor einigen Wochen sah ich einen Dokumentarfilm über Martha Cooper und ihrer Leidenschaft für Straßengraffiti. Erst da habe ich Graffiti wirklich wahrgenommen. Ich war erstaunt, was ich in meiner Stadt entdeckte und welche Kraft in einigen der Graffiti steckte. Mein Rat: achte auch einmal darauf!
Anleitung
Dieses Mal geht es um Lettering – also das "Zeichnen" von Buchstaben. Lass dich zunächst von den Schriftzügen in Straßengraffitis inspirieren. Ich hoffe, du findest welche in der Nähe. Wenn nicht, google einfach ein bisschen. Welche Grafik läßt dich innehalten?
Gestalte ein Bild aus Buchstaben und Wörtern. Du kannst die Buchstaben selber zeichnen oder aus Graffitis oder Zeitschriften ausschneiden und neu kombinieren.
Nach Lust und Laune kannst du sie auch übermalen oder überzeichnen.
Wenn du magst, veröffentliche das Ergebnis deines Experiments unter #lacedesignchallenge_2022.
Tipps
Eine Drucktechnik eignet sich dafür sehr. Da es darum geht, für diese Challenge kein extra Material zu kaufen, habe ich eine alte Malerrolle, eine alte Schreibtischunterlage aus Gummi verwendet und das, was ich an Acryl-Farben da hatte. Ich war vom Ergebnis ziemlich überrascht. Ich hätte nicht gedacht, dass alte Schreibtischunterlagen so eine klasse "Druckplatte" abgeben.